Theatre Mash Up!
Children Are Terrifying
A 48 Hour Play Festival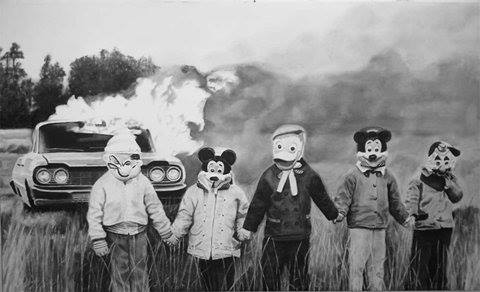 Award Winning Rising Sun Performance Company
Brings back it's THEATRE MASH UP!
"Children Are Terrifying" a 48 Hour Play Festival

Using popular social MEMES and scary stories, Rising Sun's Writers, Directors and Actors will whip up some fun short plays in 48 hours for your viewing pleasure.

SATURDAY OCTOBER 28TH
1PM & 3PM
LIMITED SEATING!
Governors Island, Nolan Park Building 11
Ferries run every 30 minutes, and cost $2
Please Be Aware Venue is not Wheelchair Accessible
RAIN OR SHINE - EVENT IS INDOORS
Not Recommended for Youth under 13 years of age

$10 Tickets!
Only 15 tickets available for each performance

There will only be 15 Tickets sold for each showing that guarantees seating. There will be an in person lottery for free tickets open seats and/or standing room/Floor Seating.

Thursday 10/26 the team will meet and literally pull a writing prompt and team mates out of a hat, then between the hours of Midnight Thursday until 10AM Saturday they will write, rehearse and create 6 brand new 10 minute plays!

Come join us for Brand new plays just in time for Halloween!
Please be aware that this is theatrical event for adults. Children under the age of 15 will not be permitted into the event.

Featuring a talented assembly of Indie Theatre Darlings & the Award Winning Ensemble of Rising Sun Performance Company
The Directors: Ali Jamali, Holly Payne-strange
Eric Parness, Chris Goodrich, Monica Blaze Leavitt and Janet Bentley

The Playwrights; Megan Lohne, Ellie Mae Miller, Reinette Lejeune
Daniel Blanda, Duncan Pflaster & Amy Grossman

The Cast: Erika Yesenia, Michael Pichardo, Miranda Rizzolo, Youlim Nam, Shaniqua Henry
Alicia Ceron, Francesca Anderson, Andrew Gonzales, Ana Capella, Rachael Schefrin, Ronald Kitts
Sven Haabeth, Leysan Timirboulatora, Orlando Rodriguez & Austin Winchester

THE PLAYS:

Beyond The Veil
By Duncan Pflaster
Directed by Ali Jamali
With Orlando Rodriguez, Miranda Rizzolo & Francesca Anderson

Nocture
By Megan Lohne
Directed by Chris Goodrich
With Ronald Kitts & Shaniqua Henry

House Haunters
By Daniel Blanda
Directed By Eric Parness
With Andrew Gonzales & Austin Winchester

My Best Friend is Human and other undead Problems
By Amy Grossman-Galarza
Directed By Monica Blaze Leavitt
With Michael Pichardo & Sven Haabeth

Skin the Chicken
By Reinette Lejeune
Directed by Janet Bentley
With Ana Capella, Rachael Schefrin & Youlim Nam

Light /Dark, Life/Death
By Ellie Mae Miller
Directed By Holly Payne-strange
With Leysan Timirboulatora, Erika Yesenia & alicia ceron

The Bios of our Playwrights, Actors & Directors
THE PLAYWRIGHTS:
​
Megan Lohne Her plays include MY BOY BUILDS COFFINS (2014, The Table, 2015 New School for Drama Development Lab, 2016 Reading with Lafayette Salon) NINE DAYS (Developed with Royal Court Young Writers Programme), REINVENTING THE WHEEL (Brooklyn Generator, Theatre Alberta 2015, Salem Theatre Company 2014, published The Best Short Plays of 2013), THE LIGHT PATTERNS OF STRANGERS, WILLOUGHBY (2008 Heideman Award Finalist, 2007 Semi-Finalist American Globe 15-Minute Play Festival) OH, MOMMA (2008 Finalist Algonquin Theater's One-Act Festival) PURGE PARTNERS (2006 Finalist Samuel French off-off Bway Festival) OPHELIA & LUCY (Semi-Finalist 2006 John Cauble Playwriting Award, Semi-Finalist 2007 Samuel French off-off Bway Festival) THE EDEN PROJECT (Nominee Cherry Lane Mentorship, 2008) THE LIFE'S GOODBYE (Semi-Finalist 2007 Samuel French off-off Bway Festival.) She has a B.F.A. in acting from Adelphi University and an M.F.A. in playwriting from The New School For Drama. She was a member of the 2007 Young Writers' Programme at The Royal Court Theatre and is a member of The Dramatists Guild.
Daniel Blanda is a playwright and actor from Alpharetta, GA. Blanda's written works include: NOT MY GOD, SHOULDA/COULDA/WOULDA, HOOPS, GRIT, OUR FRIEND HENRY and many others. He has been a recipient of the New South Young Playwright Scholarship and in 2016, he received a scholarship to study at the National Playwright Symposium at Cape May Stages. He received his BFA in Theatre Performance from Columbus State University in spring of 2014 and moved to New York City four days later. He continues to live and work in New York City.
Duncan Pflaster (Playwright ) is excited to do his second time-constraint festival with Rising Sun! He's written tons of plays. Awards won: The Underpants Godot, Messin' With the Kid, 1460 Sketches of Your Left Hand, The Empress of Sex, The Taint of Equality, Prince Trevor Amongst the Elephants, The Thyme of the Season, The Starship Astrov, Sweeter Dreams, The Wastes of Time, Dark Night of the Russet Rascal, Eternity: Time Without End, and The Tragedy of Dandelion. Others include A Touch of Cinema, Foreign Object, Suckers, Admit Impediments, Sleeping in Tomorrow, and Ore, or Or. His first film, Strapped for Danger, premieres this November.
www.duncanpflaster.com
Ellie Mae Miller (playwright) is a theater, film & TV actor, writer, & plus size model. She holds a BFA in Theater Performance from Ohio University. Recent: LAKE PLAY (Rising Sun Performance Company), Elizabeths (Manhattan Repertory, United Solo), Alpha NYC's Thalia Festival. Upcoming distribution: Film, A MURDER PARTY, a dark Victorian comedy. Ellie has also been modeling continuously for artists in sketching, painting, and sculpture. Currently: writing new works to be explored in poetry, theater, film, and fictional novel formats.
More:
www.elliemaeacts.weebly.com
@elliemaeacts on Instagram, Facebook, and Twitter
Reinette Lejeune (Playwright) : A daughter of the Deep South, she is a sun-lighting bread baker, and moonlights as a playwright and painter based in Brooklyn, NY. She has worked with Boomerang Theatre Company, Stable Cable Lab Co., Rising Sun Performance Company, Dialogue with Three Chords, The Riant Theatre, and Look at the Fish Theatre Company, where she is a resident playwright and the current literary manager.
Amy Grossman-Galarza (Playwright ) is a graduate from SUNY Purchase and has written various and sometimes not appropriate things at many places throughout the city. She is happy to be working with Rising Sun once again.
THE DIRECTORS:
Eric Parness (Director) is an Assistant Professor of Theatre Acting and Directing at Westfield State University. As the Artistic Director of Resonance Ensemble, he has produced 20 new plays and classics, and directed classic plays by Sophocles, Maxim Gorky, Chekhov, Ibsen, and world premieres by Charles L. Mee, Michael Feingold, Christopher Boal, Steven Fechter, Ginger Lazarus and others. Eric has worked extensively as a director Off-Broadway, regionally, and at various universities. He is a graduate of Brandeis University (BA) and Brooklyn College (MFA) and a member of the Lincoln Center Theater's Directors Lab.
Holly Payne-Strange (director) is the resident director of Fireside Mystery Theater, a podcast with almost two million downloads. She is one of World Ocean Art's "Stand out artists" of 2017. Her most recent play "Last Call" was called "masterfully staged" by Onstage, and she was nominated for "best director" for her work on the show "An Energy Tale" (results to come soon!) Her work has also been recommended by multiple sources, including; The New York Times, channel seven news, North shore magazine and many more. She is proud to be a part of the directors union, SDC.
Chris Goodrich (Director) is happy to be directing his first ever 48-hour play! He's a BFA graduate of the University of Miami and an actor/director currently living in Brooklyn, NY. Previous directing credits include "The Illusory Adventures of a Dreamer" as part of the 2016 NY International Fringe Festival and "Assistance" by Leslye Headland at the University of Miami. He's had a blast on Governor's Island, and is grateful for the opportunity to work with Rising Sun!
Janet Bentley (Director) holds an MFA in dramaturgy from the University of Iowa, a BA in theatre from the University of South Florida, and has multiple years training and experience in piano, dance, voice (opera and musical theatre), acting, and teaching theatre. Janet premiered Don Nigro's solo piece called Jack in the Box this past February (acting with Nylon Fusion Theatre Company). Some New York credits include world premieres of The Dark and Our Fantasia by John Patrick Shanley (directing at Nylon Fusion Theatre Company), Basement by Michael Hagins (The Gene Frankel Theatre), an original dance-play called Horse (Planet Connections Theatre Festivity 2017 -
nominated for 10 awards
), The Troubadour Struck by Lightning by Ed Malin (directing at FringeNYC 2016), Abu Casem's Slippers by August Strindberg (directing at Strindberg Repertory), Blankets and Bedtime: 3 Restless Plays by Erik Champney (producing and directing at Planet Connections Theatre Festivity), After Tartuffe by Judy Klass (directing at Fresh Fruit Festival @ The Wild Project), Queers for Fears by Ed Malin (directing at F*ckfest @ The Brick), The Addicts by Ed Malin (directing at Theatre for the New City), The Big Funk by John Patrick Shanley (Live Original Music - Nylon Fusion Theatre Company @ La Tea), Incendiary Agents by Jack Karp (dramaturg at Nylon Fusion @ The New Ohio Theatre), "This Round's On Us" (director/playwright in multiple festivals with Nylon Fusion - since 2013), and Coventry Carol by James McLindon (Emerging Artists Theatre). Janet is co-artistic director of the newly formed Roly Poly Productions and a member of Nylon Fusion Theatre Company and New York Madness.
www.rolypolyproductions.com
Ali Jamali (Director is an up-and-coming New York-based artist with an interest in developing new works and devising immersive and site-specific pieces. He started working as a director and scenic designer at Wesleyan University, where he double-majored in Theater and Mathematics. Ali has worked on numerous productions with companies such as Second Stage Theatre and Manhattan Theatre Club. He is currently a producing resident at Musical Theatre Factory. Selected directing credits include: The AV Crew (MITF); Mnemonic, A Little Epic, Before the Sun Sets (Wesleyan University).
Monica Blaze Leavitt (Director) An actress and vocal coach from NYC, Leavitt holds an M.F.A. in Performance from The University of Virginia and is a Certified Practitioner with the Lessac Institute. She owns and is the head teacher of Professional Impact based in NYC. She teaches voice, accent reduction, dialects, movement and stage combat within her company to both actors and professionals. Leavitt is an Artistic Founding Member and of the award winning theatre company, Transport Group. She has been seen in many of their productions including The Audience, All the Way Home, Our Town, Requiem for William and cul-de-sac written by and co-starring John Carriani. She has been an actress in New York City for over 20 years and has originated numerous roles including Maggie's Porch at the Cherry Lane Theatre, Safe (by and with Richard Vetere), In Transit (NYC Fringe) and The Reel Life. TV credits include Law and Order, Sex and the City and The Guiding Light. Film credits include The Pandora Machine, Remedy, The Bear and Myth. Leavitt has done voice over work for the NASDAQ and numerous other national brands.
THE ACTORS:
Alicia Cerón is a Chilean actress based in NYC. She has participated in productions in both countries; many of them with a significant multicultural focus. Alicia just received a prize for "Outstanding Performance" by the Hispanic Organization of Latin Actors (HOLA) Awards 2017 for her interpretation of the role of Leonor in the play Nanas at IATI Theatre NY. Other recent credits include: Camino Real (Connelly Theatre, NY), The Winged Man and Crooked Cross (UCSD, California), Hashing it out (The Roebuck Theater), Open Hydrant Theater para el One-Act Play Festival 2017, Roberto Zucco (Teatro La Memoria, Chile), Twelve Angry Woman (The Roebuck Theater). She is excited to be part of this project!
Michael Pichardo A Lower East Side native, Michael Pichardo graduated from Queensborough Community College with an Associate's Degree in Performing Arts. Regional Theatre credits: The Favor (Chicago Fringe). Off-Broadway Credits: Othello (American Theatre of Actors) and The Last Hour (Royal Family). New York Theatre credits: The Glory of Living (PCTF/Clemente Solo Velez), Child's Play (Rising Sun/Kraine), Punk Grandpa (Frigid New York), The Skin of Our Teeth (Articulate Theatre), Allie's Appendix (PCTF/The Paradise Factory), A Midsummer Night's Dream (Original Binding Productions), and Spoon River Anthology (Roy Arias Theater). Film credits: Judgment. He is a member of Rising Sun Performance Company. Check out his hip hop content on his "Mike Checker" YouTube Channel!
Rachael Schefrin (Actor) A proud Colorado native, Rachael came to New York to study at the Actors Studio Drama School. Since graduation, she has performed with plays and readings with Urban Stages, Nylon Fusion, and the Curious Theatre (CO). Most recently, Rachael was nominated for Outstanding Lead Actress in Horse at the Planet Connections Festivity-Roly Poly Productions. Also, she is a teaching artist with Community Word Project, Urban Arts Partnership, and Wingspan Arts.
Francesca Anderson (Actor) is an international actress and model. You can see her most recently in the short film THE SKY QUEEN, which screened at over 30 international film festivals. This film earned her two "best actress" awards in France and a nomination in Spain. She has also modeled in multiple national ad campaigns across Canada, and worked on multiple music videos for bands such as Spoon and Korean popstar BoA. Other film credits include leads in: Alp, Alexia, Lulu, Dirty Clothes, and Hamlet 95.
Youlim Nam (Actor) is thrilled to be a part of Rising Sun Performance company's 48 Hour Play festival "Children Are Terrifying". She had been built her acting career over more than five years in Seoul, South Korea, then moved to NYC to expand her stage. She completed the Hagan Core Intensive training program at HB studio after the summer intensive at Stella Adler studio in NYC, and now continues refining her craft at HB studio with master teachers. NYC Theatre: 'Twelve Angry Women', 'Peter/Wendy' (The AlphaNYC Theatre Company).
https://www.youlimnam.com/
Miranda Rizzolo (Actor) A Los Angeles native, Miranda Rizzolo is a graduate of Yale College and the London Academy of Music and Dramatic Art (LAMDA), which she attended on a Marshall Scholarship last year. Previous New York credits include the world premiere of Resistance at The Wild Project and readings at the Davenport Theatre and Drama League. Regional credits include Miss Bennet (Round House Theatre), The Father (u/s, Studio Theatre), and God is Dead and April's Getting Married (Shakespeare Theatre Company, fellows project). She can next be seen as Mary Warren in The Crucible at Olney Theatre Center.
Erika Yesenia (actor) is thrilled to be back on Governors Island, having also been a part of the Rising Sun Laboratorium staged reading series as Christiane in Elephant. You may have most recently seen her as Julie in Past Perfect at the Manhattan Repertory Theatre. She has worked with Love Creek Productions, starring as Echo in Eleemosynary and Blanca in 'From The Desk Of', a night of one acts. She's also appeared in several short films, including Eyes and Insecurity. Erika has studied at The Barrow Group, as well as HB Studio. She would like to thank everyone involved in this festival's wonderful process and her loved ones for their overwhelming support and enthusiasm.
Shaniqua Henry (Actor) is from Brooklyn, NY. She graduated from The State University of New York at Buffalo with a BA in Theater. In June'15, she completed a 2yr conservatory-based acting program at Maggie Flanigan Studio, NYC's Home For The Serious Actor. Recent credits include Beneatha in The Women Gather & How Much Do Hate Each Other, Jennifer in Music 4 The Ladies, and Student in Prep 101 Educational Video Series. Shaniqua would like to thank her supporters especially her son, Isaiah as she chases dreams.
Austin Winchester is an Actor from the small town Tallapoosa, GA. He graduated from Columbus State University with a BFA in Theatre Performance in May 2017. Theatre credits include: Tevye in Fiddler on the Roof and Karl/Steve in Clybourne Park at Georgia Repertory Theatre. Others include Riff Raff in The Rocky Horror Show, Robby Hart in The Wedding Singer, and an ensemble member in The Laramier
Ana Capella is a Method trained actor from the Susan Batson Studio and a NYC Strasberg graduate. She was raised between Spain and the U.K. She graduated with a Performing Arts Degree from De Montfort, Leicester, U.K and worked as a P.A for Gorilla Entertainment, a film production company in London. She then moved to Madrid, graduated from a 3 year program in Acting at The Madrid Film Institute and joined the ensemble of Hipókrites, touring with four productions for two consecutive years.
Ana became fascinated with Augusto Boal and his Theatre of the Oppressed during her university training, years later she flew to India to work as the A.D of a peace theatre project in Ahmedabad to implement Boal´s techniques of social and political change.
While filming a short in Africa three cast members were kidnaped. She now prefers taking acting risks instead, her curiosity to travel and understand the human condition prevails.
Leysan Timirboulatova graduated from Sarah Lawrence College this May. She is currently a director of partnerships for softfocus and an actor still stepping into the city.
Sven Haabeth is an award winning actor, most notably seen as Myron in Rising Sun's production of Helvetica at Planet Connections 2016. His most recent work in NYC was portaying Mort'd'Mer in Steven Tenney's D4rkly Your Retrorockets Fl4re at Planet Connections 2017. Originally hailing from Norway, Sven has starred in many a production there.Thank you Akia, Kristen, Birgit and Nina, and Jerrod Bogard. Look out for Sven Haabeth in upcoming productions of Ibsen's Peer Gynt and Brand.
www.sthaabeth.com
Orlando Rodriguez is a graduate from the University of Texas at El Paso with a degree in Theater Tech and Design. Despite his degree, Orlando has chosen to continue a pursuit in acting and directing. Recent roles include Greta in "Bent," Tim in "Noises Off," and Devlin in "Ashes to Ashes"