The result is a boisterous, crazy, sometimes chaotic but always hilarious night
of pure enjoyment that offers up nothing but silliness, fun and entertainment....
Karen Lee Tortora Happiest Medium
READ THE FULL RAVE REVIEW HERE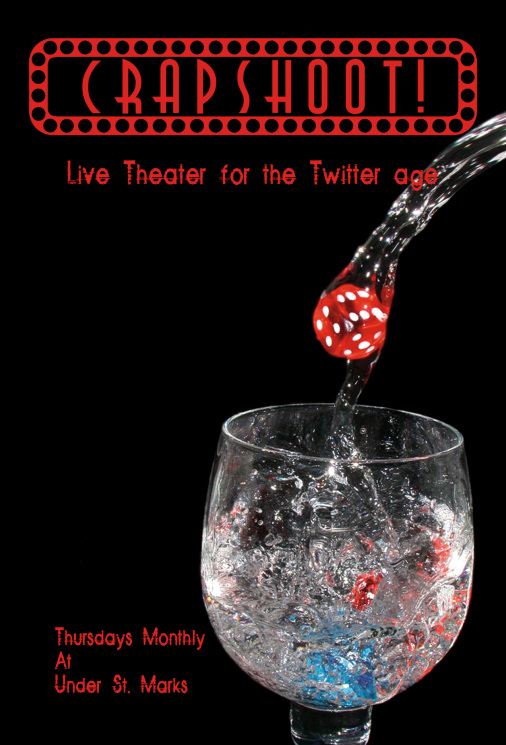 First Fridays of the Month
Friday November 4th
Friday December 2nd

10:30PM

$12, NO DRINK MINIMUM
CHEAP BEER, GOOD LAUGHS, AND GAMES

UNDER St Marks
94 St Marks Place @1st Avenue
TICKETS GO ON SALE SOON
$10 In Advance
$12 @ the Door
Borrowing a page from the Late night talk show format, Crapshoot is a 60 minute lively interactive variety show, featuring a rotating cast, Special Guests, Interviews, Musical Acts, Comedy Sketches, Current Events, Audience Participation & GAMES!! (Pass the orange or dirty drunken telephone anyone?).

BRING YOUR POSTCARDS, HIGH SCHOOL LOVE LETTERS, DIARY ENTRIES AND BREAK UP STORIES AND SEE YOUR MEMORIES ACTED OUT LIVE ON STAGE FOR THE AMUSEMENT OF OTHERS!

Featuring a Rotating Cast of Rising Sun Performance Company Ensemble & Guest Artists
Featuring your Host Mia Anderson
Along with VERY Special Guests & Acts!

CRAPSHOOT will be presented on a monthly basis, with CHEAP DRINKS! CHEAP TICKETS! AND YOU!
No Committments! No Long Stories! Its LIVE Theatre for the TWITTER AGE!
What more could anyone ask for!