Week Seven Artists
LABORATORIUM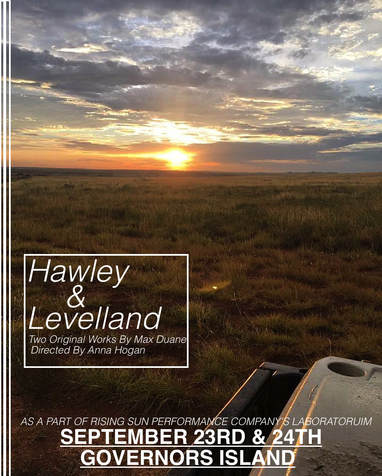 Jade
By Max Duane
Directed By Amir Muhammad and Anna Hogan
Cast: Julia Magnolia, Enrique Huili

A young woman wakes up in an endless library with no memory and is commanded to create art or be "punished". Her only resource to recover memory is the mysterious writer she shares the library with and the books she secretly reads at night.

WORKSHOP ONLY
​NO PERFORMANCES




Hawley or A Journey Through Infrasound
By Max Duane
Directed By Anna Hogan+

Cast: Tatiana Ronderos, Laura Lamberti,
Ryan Molloy, Enrique Huili

​Noon & 1:30PM
Saturday & Sunday
September 23rd & 24th

An immersive short play and sound experiment based around the theme of infrasound and it's side effects. The guests will be guided through a real estate open house by a peppy agent. Each room of the tour carries a memory of a family long ago. As the tour progresses, the guest will witness the downfall of this family.



Levelland or Ten Years In The Mirage
By Max Duane
Directed By Anna Hogan+
Cast: Robby Clater,* Bryan Hamilton,
Julia Magnolia, Logan Keeler

3:30PM
Saturday & Sunday
September 23rd & 24th

Over a ten year period, Levelland examines the life of four young adults growing up in the testosterone fueled oil field country of West Texas.

+ Ensemble Member of Rising Sun
* Member of Actors Equity
​​
Meet the Creatives
Enrique Huili
(Man) his stage credits are: Mogadishu Ghost Story, The Glass Menagerie, Oedipus Rex, Boleros for the Disenchanted, Salome, The Tempest, Danny and the Deep Blue Sea, Macbeth, The Seagull. The Last Days of Judas Iscariot, Dracula, Mercury Fur, and Medea. In 2012 he was nominated for Best Actor in the Midtown International Theater Festival for Mogadishu Ghost Story.
Laura Lamberti
Laura's thrilled to be part of this project and to have the chance to work with this wonderful theatre family. She's been blessed with many fruitful collaboration thorough the years that have helped her grow professionally and personally. She would not change a thing and she would tell her younger self to breathe, always walk forward and to create her own path. She would like to thank her NYC family for the unconditional love and support -
you mean the world to me️ -
if you'd like to know more about her adventures in the city you can follow her on Twitter
@lawida55
, on Instagram
@lawida55
and why not…let's check her website too
www.llamberti.com
Robby Clater
is thrilled to work alongside this spectacular group of people. He has been featured performing across the U.S. as well as internationally in countries such as China, Canada, and Taiwan. A few of his favorite credits include "Connected" by Lia Romeo (Jeremy), "Smokey Joe's Cafe" (Adrian), "Dreamgirls" w/ Jennifer Holliday (Band), "Grease" Carol Culver- director (Kenickie). As well as original works and workshops including "The Time Of Nick" (Nick Claus), "First Kids" (Charles Francis Adams), and "The Steven Schwartz Project" where he worked with the legendary Steven Schwartz.
Logan Keeler
is a New York based actor with a foot in both stage and film work. Originally from Maine, Logan arrived in the city in 2011 to study at the William Esper Studio. Since then he has worked at several Off Off-Broadway stages including in the revival of Ionesco's RHINOCEROS and Martin McDonagh's THE PILLOWMAN. He was most recently seen The Public's Shakespeare in the Park's JULIUS CAESAR. He has also trained at the British American Drama Academy and Academia Dell'Arte in Italy.
Ryan Molloy
- A native Bostonian, Ryan received his BFA in Theatre from Hofstra University. Select NYC/Surrounding area credits include: King Richard II (Richard II, Hudson Shakespeare), Malvolio/Sebastian (Twelfth Night, Hudson Shakespeare), Messenger (Black Garden, dir. Artur Makaryan, Columbia Univ. MFA Directing Candidate), Narrator (A Play About Drew Carey, WalkUp Arts), Mac (False Stars, Corkscrew Theater Festival). He also recently performed in two readings for the Planet Connections Festivity (Pangaea and Hold My Spot) for which he received a festival award nomination for "Outstanding Actor." Ryan is excited to be working on an original piece by Max Duane and excited to be working under the skillful direction of Anna Hogan again!
Max Duane
is a New York based playwright and is excited to workshop three of his plays with Rising Sun Performance Company's Laboratorium. Outside of Laboratorium, Max is co-creating a comic book, producing the indie film Intrusion, and slowly learning to adult. You can keep up with Max's projects on instagram @_maxduane !
Bryan Hamilton
is a graduate of the Neighborhood Playhouse. He has recently appeared in "BULL" on CBS, "QUACK" with Nylon Fusion Theatre Co. and produced and starred in "GUARDS AT THE TAJ" by Rajiv Joseph. He is represented by VGP Artist Management, and runs the production company "Made By Actors, media".
Tati Ronderos
is a trained New York based actress who graduated The American Academy of Dramatic Arts and The Neighborhood Playhouse. She has worked on various original plays alongside new and upcoming playwrights as well as renowned writers, such as Edward Allan Baker the creator of Sunny Under the Assumption, for which Tati originated the role of Lucy Guerra. She also bared it all in the major motion film "The Effects of Blunt Force Trauma" starting Mikki Rourke and Ryan Kwanten and directed by Ken Sanzel (2014). Tati is a bilingual actress originating from Bogota Colombia, who is currently producing and rehearsing "The Pied Pipers of Woodside" a translation of the play "The Pied Pipers of Lower East Side" by Derek Ahonen. She is ecstatic to have teamed up with well-known Latin American actor Alejandro Aguilar on this project. She feels blessed to be part of the cast of "Hawley" and this exciting project by Rising Sun Performance Company.


Anna Hogan
(Director) Recent New York Director/AD credits:
Hold My Spot
(Director, PCTF, nominated for Outstanding Director of a Staged Reading, Outstanding Use of Multimedia),
The Baby Monitor
(AD, Playwrights for a Cause),
The Glory of Living
(Assistant Director, Rising Sun/Planet Connections),
Child's Play
(Assistant Director, Rising Sun), and
Helvetica
(Assistant Director, Rising Sun/Planet Connections). Next up: Anna is directing the musical
A Self-Help Guide to Killing Your Boss
by Caroline Dunaway which recently finished a sold-out Hollywood run!
Anna is so happy to be working with Max Duane and all these beautiful artists.
Annamaureenhogan.com
Gianfranco
Lentini
(Sound Designer) is a NYC based playwright who believes all dogs are puppies. His work has been produced by Torrent Theatre in NYC and Theatre InspiraTO in Toronto, Canada. Theatrical associations include: Fuerza Bruta Wayra, the Royal National Theatre in London, and Samuel French's Breaking Character Magazine. He received his BA in English and Drama from Hofstra University. Endless thanks to Anna and Max for welcoming him aboard this incredible island experience.