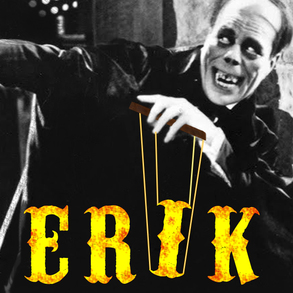 OUR SOLD OUT FESTIVAL RUN IS EXTENDED!!
TWO MORE CHANCES! MARCH 19TH & 26TH

A darkly poetic satire of Phantom of the Opera as seen through the iron bars of a carnival freak-show cage. With puppets more twisted than a melodrama mustache (and twice as greasy), ERIK points and laughs at the real freak show- us.
ERIK IS EXTENDED
TWO MORE CHANCES
THURSDAY MARCH 19TH 10:30 PM
THURSDAY MARCH 26TH 10:30 PM

FRIGID NY PERFORMANCE DATES & TIMES
Thurs, Feb 19th, 10:30 PM
Sat, Feb 21st, 6:40 PM
Thurs, Feb 26th, 8:50 PM
Sat, Feb 28th, 5:00 PM
Sun, March 8th, 1:50 PM


Ticket Prices are $10-$16
Available online and at the Festival Box Office
Tickets go on-sale in Late January

A World Premiere
Produced by Rising Sun Performance Company
Presented by FRIGID New York
February thru March 2015

ERIK
By John Patrick Bray
Directed by Jerrod Bogard
Stage Manager David Pilchman

Technical Direction/ Light Design: Jak Prince
Sound Design: Ian Wherle
Costume Design Antonio Consuegra
Assistant Costume Design: Ashleigh Herndon
Lead Producer Akia

Featuring: Bryn Packard, Chris Behan, Destiny Shegstad, Matt Pepitone, Montana Lampert Hoover, Kervin Peralta, Samantha DeSimone & Yair Ben-Dor

From the original novel to the Lon Chaney silent film, to the Andrew Loyd Webber musical, and countless iterations in between, the characters of Leroux' novel have been twisted and turned like the sewer tunnels beneath a Paris Opera House.

Playwright John Patrick Bray explores the story from the vantage of an youth, beauty, image-obsessed 21st Century. With the moral ambiguity of a carnival side-show, he uses this terrific adventure/thriller/love story to celebrate the hick-ups, hang-ups and double standards we've simply stuck up on our cultural shelf.

FRIGID FESTIVAL
19 DAYS 30 SHOWS OVER 150 PERFORMANCES
FRIGID New York was founded by Horse Trade and EXIT Theatre in 2007.

Drawn to CAFF'S main principle, "...to provide all artists, emerging and established, with the opportunity to produce their play no matter the content, form or style and to make the event as affordable and accessible as possible for the members of the community," Horse Trade was proud to sign on to the tradition, and thaw out New York's ideas of what a theatre festival can be. FRIGID is also a proud member of USAFF (US association of Fringe Festivals)

In true support of theatre on the fringe of the mainstream, the artists take home 100% of their box office, and the festival producers do not receive royalties from future performances. The festival's producers are proud to support self-producing artists' growth and future success.



LOCATION:
The Kraine Theatre
85 East 4th Street
Between Bowery & 2nd Avenue
Located near the 6, N, R, L & F Trains
Please note that the venue is Not Wheelchair Accessible